St. John's College's free, family friendly annual summer concert series hosted on the athletic field at the college. Bring a picnic or purchase food from Walter Burke Catering.
Make a gift to Music on the Hill to support this program bringing free concerts to the Santa Fe community. Your support makes a difference!
2018 CONCERT DATES
June 13 – Doug Lawrence
Website: douglawrencejazz.com
YouTube: youtu.be/7Ob0W9AJ6EQ
June 20 – The Tracey Whitney Quintet
Website: babydollentertainment.com
YouTube: youtu.be/R1Wy3gx27-8
June 27 – Ryan Montano
Website: ryanmontano.com
YouTube: youtu.be/wjVQaRWPVnA
July 11 – Jimmy Stadler
Website: jimmystadler.com
YouTube: youtu.be/POtNIt9abRA
July 18 – Ranky Tanky
Website: rankytanky.com
YouTube: youtu.be/X0br_EU0pvU
July 25 – Calle 66
Website: facebook.com/CALLE-66-249990423099
YouTube: youtu.be/MsSs4EJGG3I
RESTAURANT BENEFIT NIGHTS
Come out and dine at these local restaurants who support Music on the Hill. Twenty percent of the evening's food and beverage sales will benefit St. John's College free summer concert series.
PARKING
Designated Parking Areas
A drop-off site is located at the entrance to campus on Camino Cruz Blanca for those unable to walk from the designated parking areas.
Santa Fe Prep Main Lot
Off of Camino Cruz Blanca
Immaculate Heart of Mary Retreat & Conference Center
Across the street from Santa Fe Prep with access from Camino Cruz Blanca.
Rio Grande School
Off of Camino Cabra, next to Atalaya Elementary School
Atalaya Elementary School
Off of Camino Cabra, next to Rio Grande School
Free Park and Ride Shuttle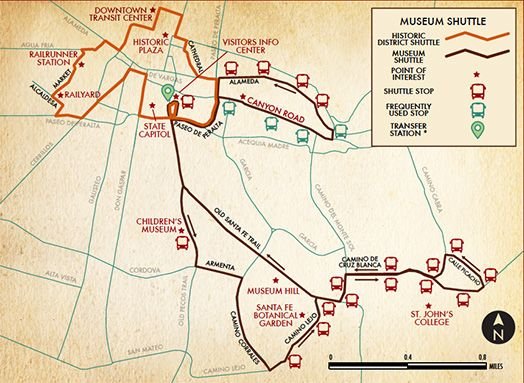 Parking is no longer available at Museum Hill. Instead, shuttle parking is available with the Santa Fe Pick-Up.
Park at the PERA lot transfer station and ride the FREE Santa Fe Pick-Up Museum Shuttle up to Music on the Hill. The Santa Fe Pick-Up hours will be extended until 8:30 p.m. for each concert evening. We thank the City of Santa Fe for extending their hours for the public to attend these free community concerts. For more information visit takethetrails.com or call 505-231-2573.
Handicap Parking Area
Handicap parking is available for those with a handicap permit. Proceed to the main college entrance where security personnel will direct you to the appropriate lot.
Concertgoers are advised to use the designated parking lots and heed all "no parking" signs on local area streets. View map of designated parking areas.
Please do not park along any nearby streets, including Camino Cruz Blanca, Camino San Acacio, Calle Rumolo, Camino Cabra, or Camino Picacho. The areas will be monitored by the City of Santa Fe Police and will be subject to parking violations.
RULES AND GUIDELINES
To ensure the enjoyment of all concert-goers, we ask that you please follow these guidelines:
No pets, except service dogs, onto the field
No tables on the field
No large umbrellas
No tents
No smoking
Children must be supervised at all times
Park bicycles along tennis court fence
Keep views of the stage unobstructed
Drink responsibly and understand that underage drinking is prohibited
Respect the college's neighbors and park cars only in designated parking areas
Pick up your trash before leaving the field
St. John's College reserves the right to:
Ask anyone to leave due to inappropriate behavior or conduct.