Spring, Summer, Fall & Winter are perfect times to visit and hike the Dale Ball Trails in Santa Fe. Explore the foothills northeast of the city up to the mountains on this incredible trail.
The Dale Ball Trail system is a nearly 25-mile network of natural-surface trails in the foothills of the Sangre de Cristo Mountains.
Located a short distance from downtown Santa Fe, it is the quickest way to get from the city into the mountains. It offers great opportunities for beginners and advanced hikers alike, along with amazing views of both the surrounding wilderness and back towards the city.
The trail features a unique numbered sign system at each trail junction to provide easy navigation, as well as connecting to other local trails, including the La Piedra, Santa Fe Canyon Preserve, Dorothy Stewart and Atalaya Trails.
As the name would suggest, the trail system is named after Dale Ball, who was instrumental in the conception, design and construction of the trail.
For the construction itself, Dale enlisted the help of Mike Wirtz, a retired Forest Service trail specialist; the advanced way-finding sign system was made with the design help of Bill Field.
Two parking lots were built to serve Dale Ball Trail hikers: one off of Hyde Park Road where it intersects Sierra del Norte, and another at the intersection of Upper Canyon Road and Cerro Gordo.
Additionally, parking can be found at St. John's College and along Camino Cruz Blanca, which is the closest parking to access Atalaya Trail.
Total Length:  24.4 Miles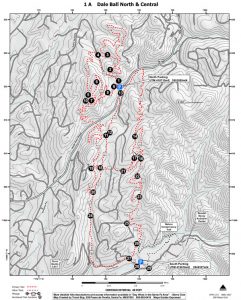 Hiking/Running:  Yes
Bicycling:  Yes
Equestrian:  No
Motorized Vehicles:  No
Dog Friendly?:  Yes, with leash
Dale Ball North – Divided by Hyde Park road, Dale Ball North trails loop around the foothills of mixed clay and rocks. Most trails are a solid intermediate with a few moments of short, technical switchbacks.
Dale Ball Central – The central section of the Dale Ball trails meanders through the pines and hidden houses, punctuated by breathtaking views. Great switchbacks and quick descents.
Please be mindful of hikers and our neighbors.
The Dale Ball trail system meanders through the foothills around town. They can be accessed by riding from town and connecting either near St. Johns, Upper Canyon rd, Cerro Gordo, or Hyde Park. Despite being so close to town, the trails remain relatively uncrowded and contain a mix of smooth, silky lines and chunky, rocky ledges. It's easy to make a quick lunch loop or spend half the day exploring the hills and soaking in the views.
The Santa Fe Conservation Trust partners with our community to keep northern New Mexico's living lands and people flourishing together.
We protect culturally and environmentally significant landscapes, ignite people's passion for nature and enable the continual regeneration of our healthy place.
We envision a future where everyone in northern New Mexico cherishes nature and works to preserve it for this and future generations.
The Santa Fe Conservation Trust (The Conservation Trust) was founded in 1993 and received its 501(c) (3) status in December of 1993. The 501(c) (3) designation is a Federal IRS designation which means that people may donate to The Conservation Trust and receive a tax deduction.