Fee Free Day Bandelier National Park is a gift to all to explore the rich history that New Mexico offers and surrounds us daily.
To think humans have been here for so long and survived and to have the opportunity to see those old ruins is truly a gift to your soul.
I hope every takes advantage of this day and go explore your state, explore your neighborhood and explore the cultures that draw so many to Santa Fe and northern New Mexico.
Mark your calendar to celebrate the National Park Service's 105th birthday on Wednesday, August 25, 2021 with Fee Free Day Bandelier National Park!
Entrance fees are waived to encourage everyone to come out to enjoy their national parks.
Bandelier will be open dawn-dusk.
Find a birthday event near you:
Changes to Visitor Services Due To Covid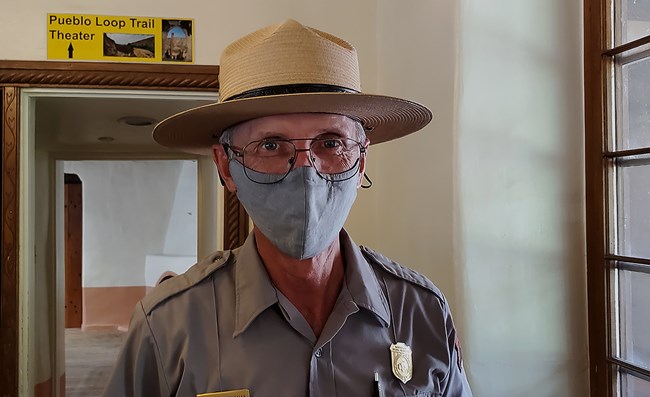 Bandelier Visitor Services Update
Due to the increase in COVID-19 transmission rates and in support of guidance to help reduce its spread, Bandelier will temporarily limit indoor services. Effective today, August 19, the visitor center is open only to those who would like to pay an entrance fee or purchase a pass, one at a time. The museum and theater are temporarily closed.
Rangers are available outside the visitor center to provide information, orientation and answer your questions, 8:30am-4:30pm, daily. Ranger programs are still available. Visitors are required to wear a mask in all facilities – Visitor Center, Cafe and Park Store.
All trails and outdoor areas are open.
Life in Bandelier
The Ancestral Pueblo people lived here from approximately 1150 CE to 1550 CE. They built homes carved from the volcanic tuff and planted crops in mesa top fields. Corn, beans, and squash were central to their diet, supplemented by native plants and meat from deer, rabbit, and squirrel. Domesticated turkeys were used for both their feathers and meat while dogs assisted in hunting and provided companionship.
Moving On
By 1550, the Ancestral Pueblo people had moved from this area to pueblos along the Rio Grande. After over 400 years the land here could no longer support the people and a severe drought added to what were already becoming difficult times. Oral traditions tell us where the people went and who their descendants are. The people of Cochiti Pueblo, located just south and east along the Rio Grande, are the most direct descendants of the Ancestral Pueblo people who built homes in Frijoles Canyon. Likewise, San Ildefonso is most closely linked to Tsankawi.