When:
June 23, 2022 @ 10:00 AM – 6:00 PM
America/Denver Timezone
2022-06-23T10:00:00-06:00
2022-06-23T18:00:00-06:00
Where:
New Mexico Musuem of Art
107 W Palace Ave
Santa Fe, NM 87501
USA

Contact:
New Mexico Musuem of Art
(505) 476-5063
Selections from the 20th Century Collection is a show that features not only the greatest works but 'other' great works that haven't been show for some time.
After more than a century of collecting, the New Mexico Museum of Art has become home to some of the finest examples of Southwestern Art by the regions most beloved artists.
On the second floor of the Museum's historic building, find treasured classics and new surprises in our permanent installation of twentieth-century art.
Featuring work by members of the Taos Society of Artists, members of the Santa Fe art colony, prominent modernists, and many others, this installation is a survey of the creative environment fostered in New Mexico over that past century.
Hours
May through October
Saturday-Thursday: 10AM – 5 PM
Friday: 10 AM – 7 PM
November through April
Monday: Closed
Tuesday- Sunday: 10 AM – 5 PM
*Open from 5-7PM on the first Friday of each month
The New Mexico Museum of Art is a division of the New Mexico Department of Cultural Affairs.
The Museum of Art is one of four state museums in Santa Fe, eight historic sites statewide, and the Office of Archaeological Studies that comprises the Museum of New Mexico System.
The Museum of New Mexico Foundation raises funds for Museum of Art exhibitions and educational programs.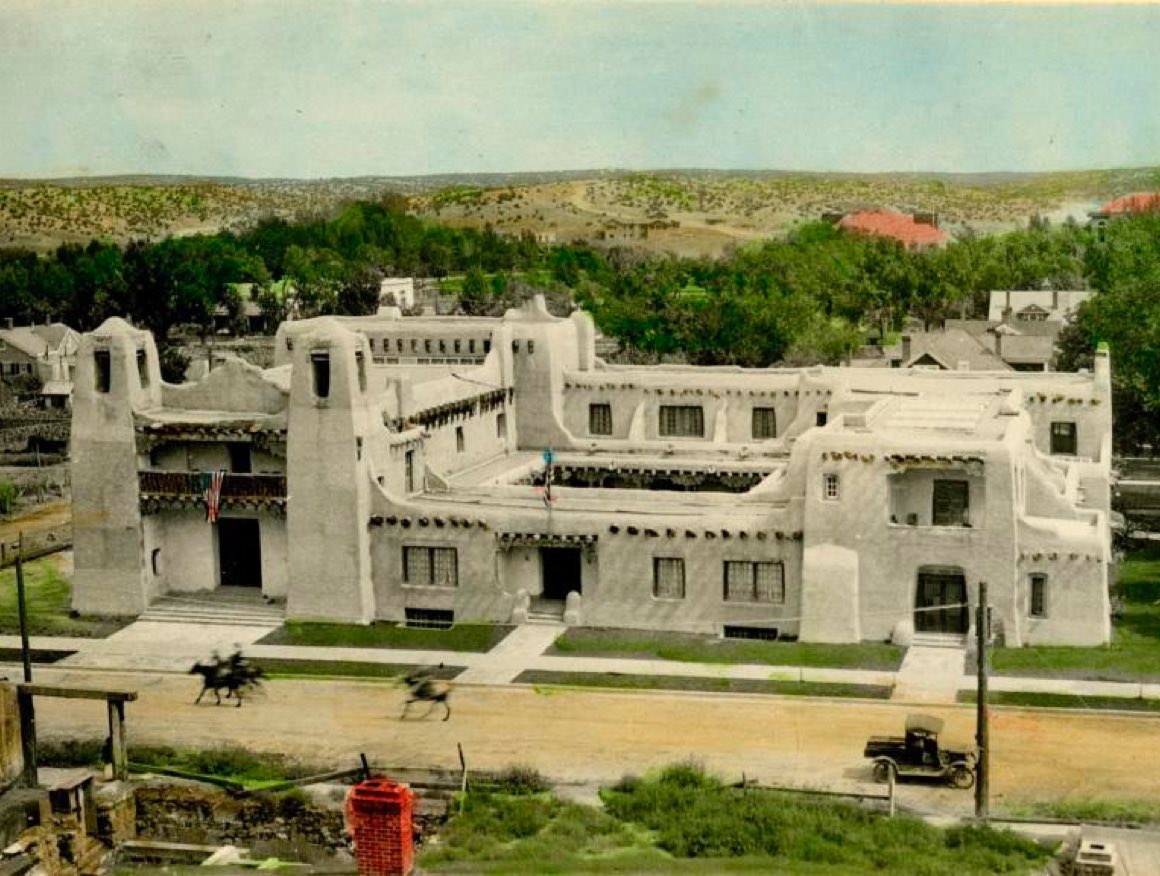 When the New Mexico Museum of Art opened in 1917 it was the first building in the state dedicated to art.
Its galleries, reception areas and St. Francis auditorium were made by the people of New Mexico for the promotion of the state's rich culture to visitors and locals alike.
The architects Isaac Hamilton and William Morris Rapp designed the building as an enlarged and modified version of the building they made for the 1915 Panama-California Exposition in San Diego.
The style of the building, called Pueblo Revival, uses modern contruction materials made to look like the historic adobe churches found throughout the state's Pueblos.
Throughout its century long history, the museum has grown and redefined itself to adapt to changes in art and museum practices.
The current name, The New Mexico Museum of Art, was adopted in 2007 to reflect the breadth of New Mexico art. Its previous name, "The Museum of Fine Arts" had been adopted in 1962.
Art is for everyone. We create authentic experiences that foster a deeper understanding and enjoyment of art throughout the State. We work with art and artists to explore the human experience, new ideas, and diverse cultures.
Vision: The Impact We Strive to Have
The New Mexico Museum of Art is a catalyst and showcase for creativity and the enjoyment of art. Artists, learners and community members are empowered to think critically and see a multiplicity of meanings. We bring the art of the world to New Mexico and the art of New Mexico to the world.
Builds and preserves an ambitious collection of significant art works relevant to New Mexico's communities and in keeping with Santa Fe's stature as an international art center
Presents art that represents the full scope of artistic practice, media and time periods
Connects with artists working and living in the region; and fosters relationships with the broader creative community
Engages the communities in its city, region and state and enhances their quality of life of through lifelong learning and educational opportunities
Contributes to the long-term growth of New Mexico and Santa Fe by fostering economic development, supporting education and enhancing the quality of life of its residents, and by connecting with tourism initiatives
Values: Core Pillars That Guide What We Do
Welcoming – We believe museums are places for inspiration and enjoyment, a social place that serves a broad audience and actively empowers all visitors to engage with art and cultural experiences on their own terms. 

 

Inclusive – We believe that art is for everyone. We will reach out to diverse communities in Santa Fe and New Mexico and present art forms across media, time periods and cultural communities. 

 

Inspiring – We will draw upon our innovative origins, and use that spirit of adventure and originality to become a leader in Santa Fe's evolution as a center for the understanding, enjoyment, research into and appreciation of art. 

 

Responsible – Our building and collections are important parts of the cultural heritage of the State of New Mexico. We are committed to caring for the museum collection and historic building in alignment with best practices, to ensure their safe keeping for current and future generations. 

 

Ambitious – we aim to secure resources to meet the ambitions of our mission and vision, and to provide the highest quality experience possible for all of our visitors.